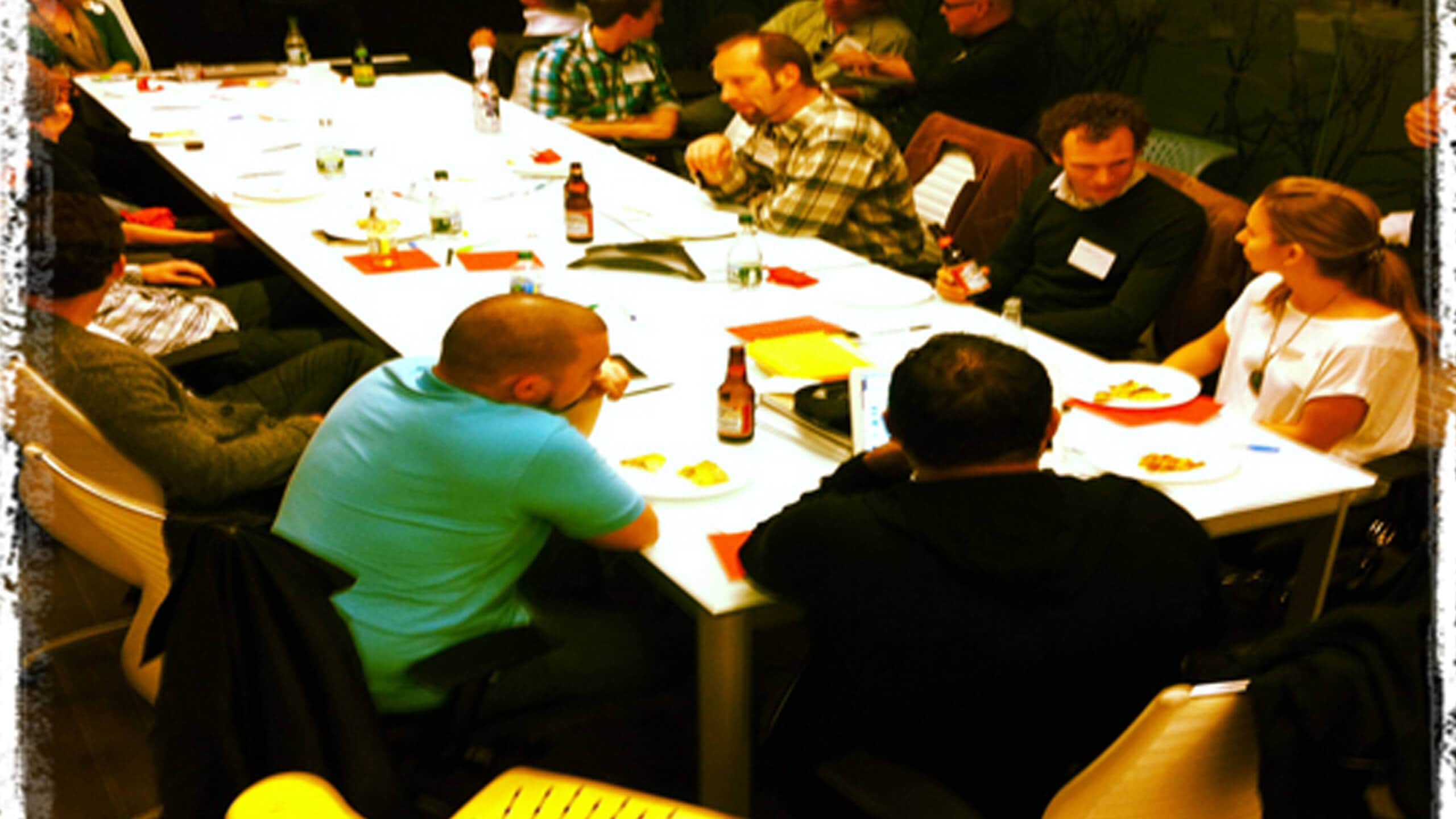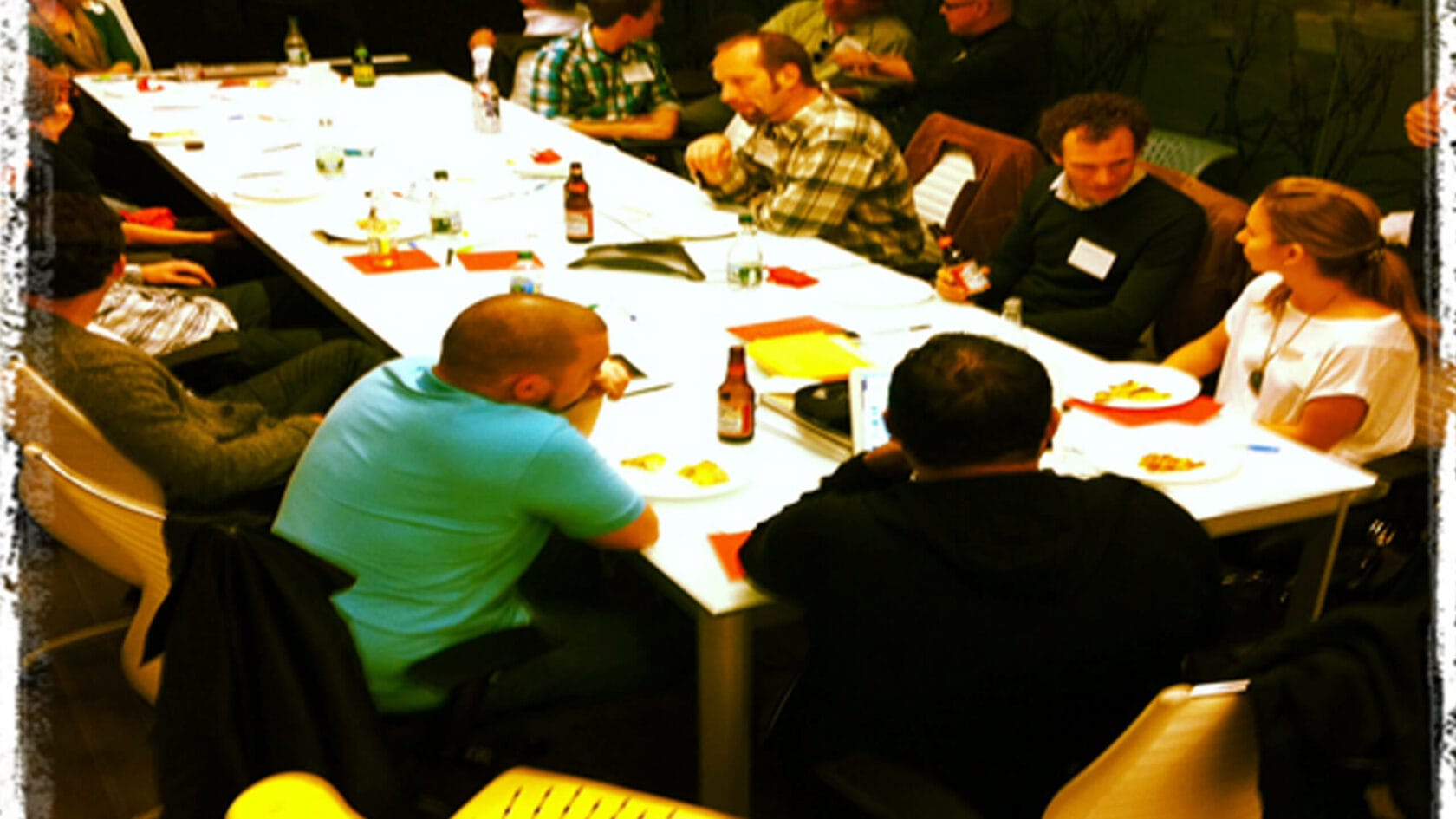 Last Thursday Night 25 representatives from many of Boston's top design firms and design-minded corporations gathered at Manta's New office in Kendall Square to begin the process of designing the 2012 IDSA National Design Conference and offsite. The collaboration and energy in the room that night was epic as we worked together in a series of creative team brainstorming sessions focused on speakers, events and themes.
Over the next month we plan to continue to collect these ideas and at our next meeting – tentatively scheduled to coincide with IDSA Christmas wrap in early December – we will collectively begin selecting the ideas we feel most passionate about and start organizing task forces to help flush them out over the next 9 months.
Next year's conference will be held at the Westin Boston Waterfront August 15th-18th and, as the unofficial co-chair/offsite activities coordinator and Boston Area design advocate, I'm extremely excited to be involved in these efforts. If you have any questions or would like to get involved please contact me at jordan@sprout.cc. Also, be sure to follow us on Twitter @idsaboston2012.
Below Is a letter from Conference Chair Charles Austen Angell:
Dear Fellow Designers,
I am writing to invite you to be a part of the 2012 annual IDSA design conference, "The Future is…",which will be held will be in Boston at the Westin Boston Waterfront, August 15- 19th.
The conference is themed around mapping the future as a context for the business of design. As designers, we play a vital role in how the future will unfold, and yet the framework upon which our community as a whole operates is often fractured and disjointed. While individuals designers, firms and companies might receive the same information from the media, we digest it privately, or at best interspersed with a few anonymous posts from some blog. Rarely do we digest new information together and create a community-wide dialog about the future opportunities and directions for our discipline.
Boston has one of the world's great design communities, and this conference will truly showcase all that is great about design in Boston, as well as highlighting the exciting things happening in design across the country and the world. Boston is the perfect location for a conversation of this nature.
Guiding questions include:
~ What technologies will most affect us in the next 5, 15, or 30 years?
~ What key breakthroughs can we expect in the fields of medicine, biotech, and the environment?
~ How are demographics and economic conditions expected to change?
~ What is the future of manufacturing?
~ What is the role of ethics in future of experience design?
~ How will the internet continue to evolve?
~ What opportunities for design will emerge from these developments and how will the business of design change?
"The future is…" will focus on emerging technologies and likely future developments from a variety of social, economic and technical perspectives, presented by experts from outside the field of design – and just as importantly the conference will feature a more interactive format where the conference attendees will participate as co-creators in the overall dialog and framework of understanding that emerges from the content. Imagine a conference where several hundred designers go back to heir respective work environments with a shared vision of how technology, and innovation will play out in the next 5-30 years. How could that affect the discipline of design as a whole? How might that affect the impact of design? How would that affect the way you personally work?
I want the Boston conference to be the most invigorating and innovative conference IDSA has ever put together. I need your help to make this happen in Boston. What should we see and learn from being in Boston. I'd like your input and opinions so that the entire Boston design community is reflected in the conference proceedings. Most of all I want your participation.
I look forward to hearing from you – email me and share your thoughts:
future@idsaboston2012.org
Also make sure to follow the conference developments on our twitter feed at @idsaboston2012
Challenging times? Sure. But the Future is… idsaboston2012
We'll see you at the Westin Boston Waterfront, August 15- 19th.
Best Regards,
Charles Austen Angell IDSA
Conference Chair – IDSA Boston 2012