Meet Adam Gray: Project Manager, Industrial Designer & Part-Time Adrenaline Junkie Aside from its role as a leading concept-to-launch design studio, Sprout Studios is proud to support its employees in their passions outside of the office. When Sprout's CEO Jordan Nollman learned about Adam Gray's weekend motocross racing career, he was eager to offer support by providing a grant to cover costs like race entry fees and bike upgrades. Adam is a Project Manager and Industrial Designer who contributes exceptional leadership and organizational skills to the Sprout team, as well as an ambitious spirit that translates across all of his endeavors.
Adam discovered motocross at eight years old, thanks to his older cousins. "They were 5-10 years older than me and they would come over and ride all the time, but my parents were cautious because it was very dangerous for an eight year old," he recalled. Eventually he got his own dirt bike and entered his first race during his freshman year of high school, and the rest is history… 
His proudest achievement so far came in 2019 when he committed to earning championship points in every single race within two classes in a spring series, which is called an Iron Man Award. "In general, it was a really fun year. We had a lot of good competition, and the core group that showed up to the races every single weekend like I did became a racing family. We always parked and camped together. It was definitely a highlight of my motocross career."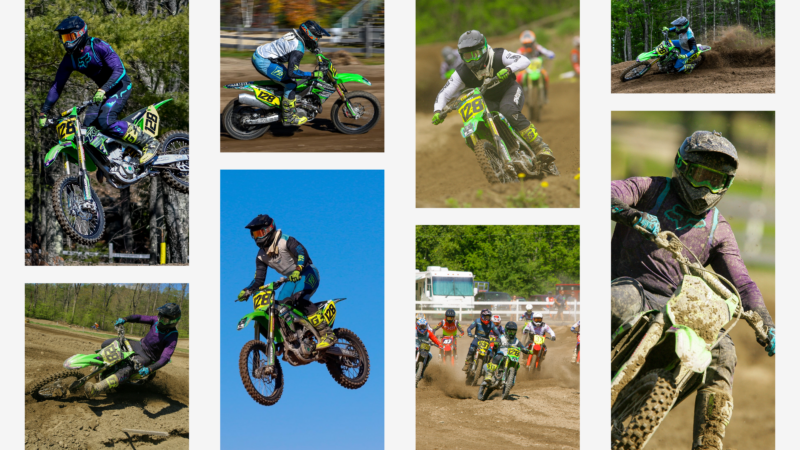 Now, Adam races nearly every Sunday all around New England. A self-proclaimed adrenaline junkie, he has been able to strike a balance between the ups and downs of the sport and his personal and work life.
"Most of my injuries came from when I was younger, because I just wanted to hold the throttle wide open and didn't really care about the repercussions of what might happen. The older myself and my friends get, we appreciate age group classes like 25+ and 30+ because we understand that race days are on Sundays, and then we all have to wake up on Monday and go to work. It's definitely a different mindset than when I was 16," he said. 
But even when he's on the clock with Sprout, Adam has experienced some similarities between these two aspects of his life. "You have to manage a race in a way. You have to manage how much energy you have and your own capabilities. You can't just go out of the gate and sprint for as far and as long as you can," he expressed. "I think that's kind of the same with management at Sprout. If you go as fast and as hard as you possibly can within design, you're definitely going to blow yourself out and the team out."