Celebrating 10 Years: Meet Matt, Our Director of Industrial Design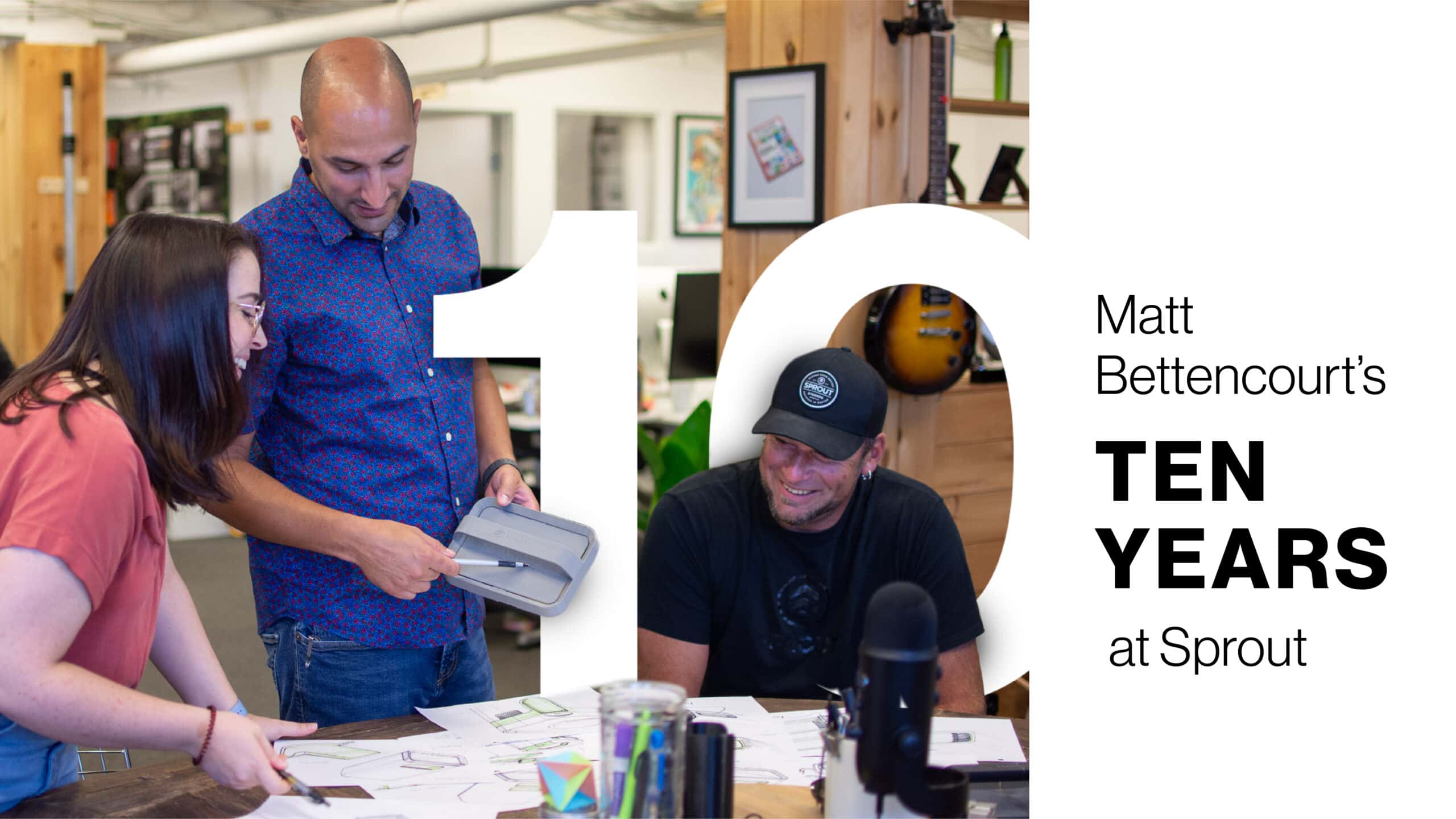 December marked the 10 year anniversary of Sprout's first ever employee, Matt Bettencourt. Matt started as an intern and is still with us currently as our Director of Industrial Design. We sat down with Matt to dig into the last decade and are sharing his thoughts below, with some photos of the surprise celebration we held for him in the studio. 
How did you land on pursuing industrial design as a career?
I was in school for art and graphic design but I was never really passionate about it. I always found myself sketching cars, so it hit me to look into automobile design. When I was searching for transportation programs I saw some schools had Industrial Design. The ability to design more than just cars intrigued me, so I started searching for local ID programs and found MassArt.
And how did you end up at Sprout?
I met Jordan through an IDSA event when I was in school. He was the head of the event and a friend of mine introduced me to him. I was hired as an intern and then Jordan offered me a full time job after graduation. Ten years later and I haven't left. From starting in Jordan's basement to where we are now, it has been a killer journey. 
Favorite project you've been part of? 
That's a tough question to answer but Woo comes to mind first. That was the first project that I got to work on from start to finish, and see the engineering process through. The company did a great job at launching the product and it gained a lot of traction. It was pretty cool when I saw that Richard Branson (Virgin founder) had used the product.
What are you working on right now? 
Most of my time currently is focused on work for Kohler, Staples and design direction. Lots of research, sketching and ideation for new product concepts. Hope to share some of this new work soon.
Dream project you'd love to work on?
Anything automobile related would be cool. I could see Sprout working on something related to technology in the automotive industry. 
What accomplishment are you most proud of?
Awards don't mean everything but it always feels awesome to receive recognition, and I am personally really proud of the Red Dot Awards that Sprout has won.
What's the best advice you can give to someone who just started their career?
Never stop networking or learning. Spend time exploring new topics and take in as much information as you can. Always work to improve your skills, and be open to trying new software and techniques. Repetition is key, practice makes perfect. 
In the next 10 years, I would like to… 
Pursue entrepreneurial endeavors. I always have side projects I am working on like most designers and would like to start a business, eventually.