Sprout 3.0 Launch Day – Official Press Release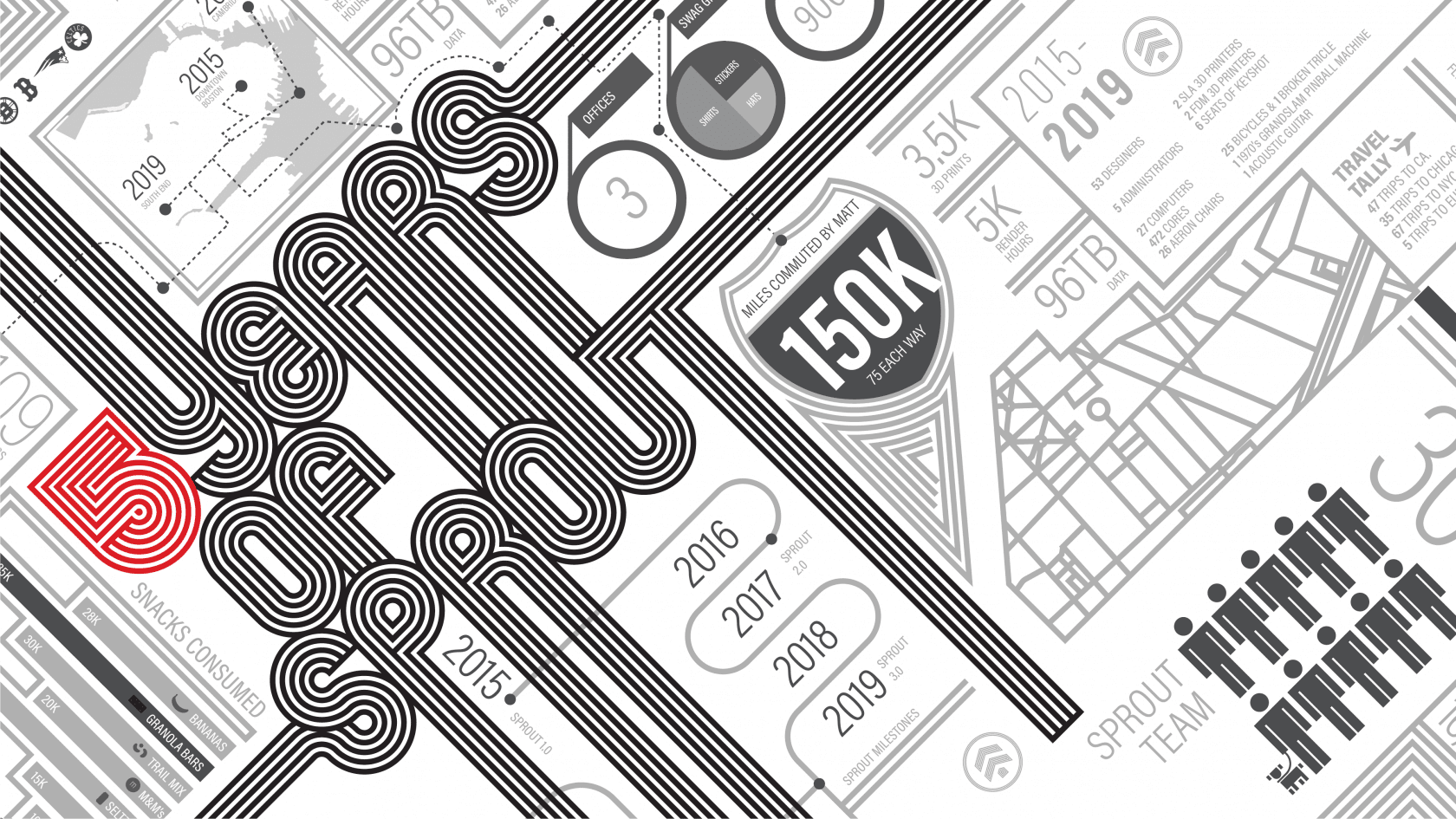 Design firm Sprout Studios celebrates its 5th anniversary and the relaunch of the company's brand with a day of fun demos and world-class speakers.
December 2, 2019—BOSTON, MA— Industrial Designer and Founder of Sprout Studios, Jordan Nollman, is relaunching his company's website, social media, and brand. Over the last five-years, Sprout Studios has quadrupled in size, now employing more than 30 multidisciplinary designers and creatives at their new headquarters in the South End. In addition, Sprout also has satellite offices in Brooklyn, Denver, and San Diego. Sprout's growth is due in part to its award-winning industrial design, graphics, branding, UI/UX, and experience working with fortune 500 companies including Accenture, Honda, Pabst Blue Ribbon, Jarden (Now Newell), Seagate and Samsung, along with local clients like Clio, Draper, Keurig, Staples and many unique Start-Ups
Since Sprout has been so busy, there hasn't been a moment to turn the design focus inward–until now. "We have seen massive growth since our launch back in 2014 and are excited to share our evolution at our upcoming Sprout 3.0 launch event on December 6th," said CEO Jordan Nollman.
Launching a design firm equipped with a lean team that can compete with larger design institutions has been a happy surprise for Jordan, who is planning where and how to take the company to the next level. Sprout's work designing consumer products has opened the doors for the team to collaborate with Fortune 500 brands and larger companies, ranging from consumer electronics to software and apps to branding.
Beyond the change in the brand's appearance, the Sprout team has other ambitious goals. First, the team will release regular content on the new Sprout blog launching in late 2019. The main blog contributors will be designers on staff at Sprout who will write about work for past clients–as well as interviews with key players in the industry, and broader design thinking pieces on themes debated in the business and design communities alike. They will also continue on with their monthly open office series, adding a skillshare demo to each month's event.
No matter how big the roster of Sprout's clients gets, Sprout created a way to stay close to its entrepreneurial roots by adding two additional Business models – Sprout Ventures and Sprout Labs. Sprout Ventures invest in early-stage startups, taking part equity, part cash payments in exchange for design services. Ultimately, this allows Sprout to put skin in the game and often leads to major investments from private equity and venture capital. They currently have over 20 companies in their portfolio and are always looking for new opportunities.
Sprout Labs is an internal incubator for products, brands, and experiences invented by Sprout. It is their goal to launch 5 new companies throughout 2020 and will be unveiling a few of them at their upcoming 3.0 Launch event.
The Sprout 3.0 launch will be a full-day event hosted at their studio located at 519 Albany St, Suite 101. The day will begin at 8:30 a.m. with breakfast, followed by skillshare demos from Ryan O'Donnell, Juan Ocampo, Matthew Evans, Derek Cascio, Connor Pelletier-Sutton, and Michael Hull. At noon Angela Yeh of Yeh Ideology will speak before a lunch break, after which presentations will begin. Speakers will include Sarah Meister of Sprout Studios, Robert J. de Saint Phalle of Draper, Jon Riehle of Gillette, Adam Larson of Adam & Co., Jordan Nollman of Sprout Studios and Derek Baker of Freight Farms.
A party will immediately follow the day's events, featuring a DJ, Happy Hour, taco bar, screen printing, a photobooth, dancing and more!
You can RSVP for the December 6th event via the Eventbrite link on Sprout's Facebook, Instagram, and LinkedIn.