A Vision for Visualization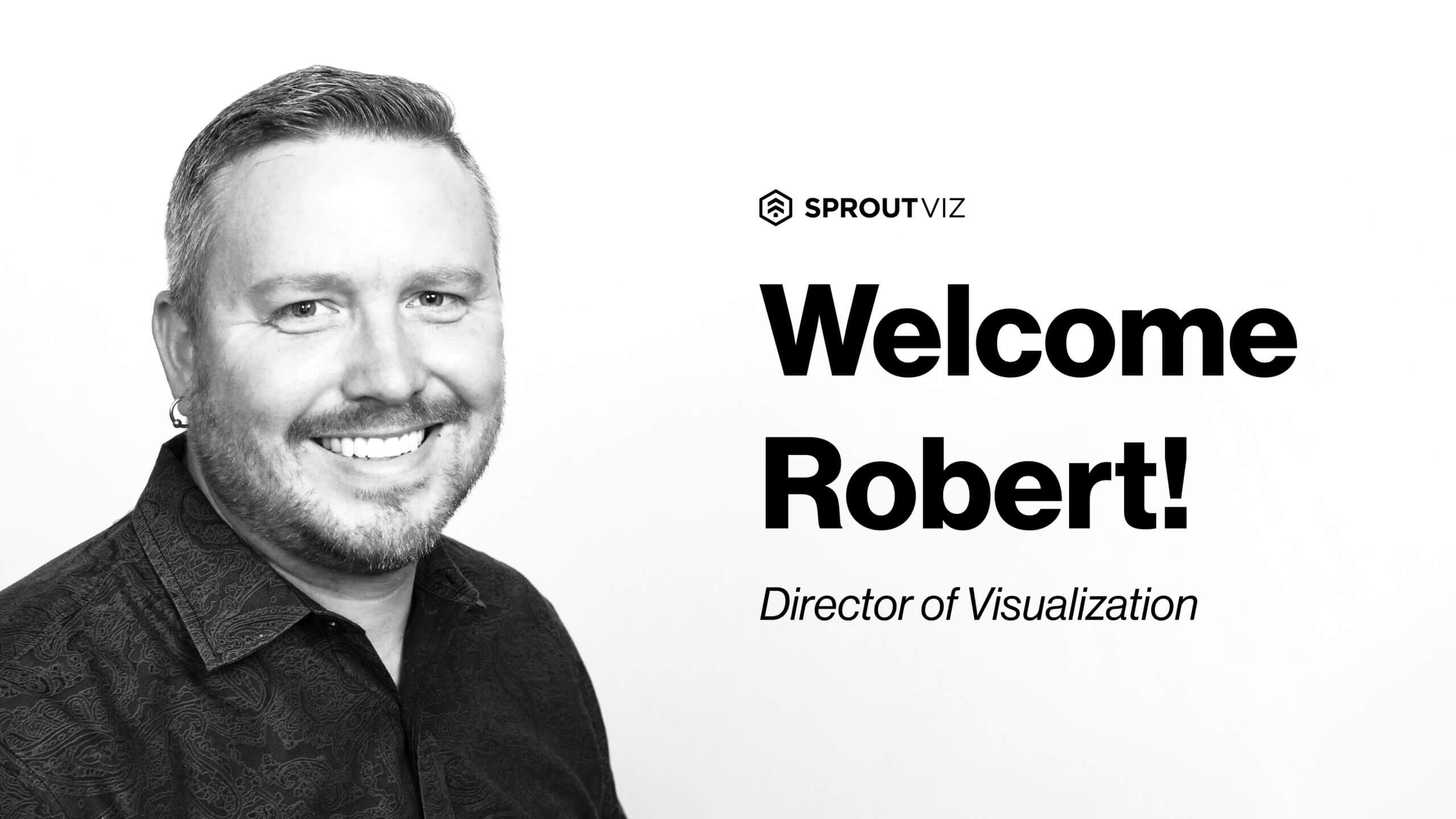 We are thrilled to welcome Robert Cheezum as Director of Visualization at Sprout. Over the past year, we have been managing the formal launch of Sprout Viz as a new, discrete Sprout service offer. Under Robert's direction, we will be bringing this offer to life throughout Sprout's project work. 
Robert has an extensive background in visualization. His career mirrors its migration from a once esoteric and specialist pursuit to its current role as a design discipline that can amplify the storytelling possibilities for products at every stage of the conception-to-commercialization journey. 
By way of introduction, we're recounting Robert's journey from CGI journeyman to Sprout visualization principal over the last 25 years.
The Journey
Chapter 1: CGI as a specialized pursuit. 
In the mid-Nineties when "computer graphics" emerged as a way for mere mortals to use high-end personal computers and mini-computer workstations to create visual depth and motion, Robert got the Hollywood bug. He enrolled at Full Sail University in Florida, one of the few schools in the country at the time that was all-in on helping digital visual artists catch the CGI wave. 
During his senior year, he saw the call for entries for a competition sponsored by Silicon Graphics Alias|Wavefront at ACM SIGGRAPH. (That would be the Association of Computing Machinery's  Special Interest Group on Computer Graphics. Since 1974 this was the place where digital visual geeks swapped tricks). Sadly, by the time he discovered the competition, there was little time to both create and render an entry. 
Except for the Industrial Design category, where the application only required still images of a product. He had no idea what industrial design was at that time. After a crash course from an instructor at Full Sail, he set out to design and render a home bicycle trainer (with matching bike shoes). His first product design effort won the category and he accepted the award at the Alias|Wavefront Global User Group at SIGGRAPH in Orlando just a few months prior to graduation. 
After fending off job overtures from Black & Decker and Adidas (who were ahead of the curve in recognizing the power of CGI as an in-house capability) and not seeing offers from Industrial Light & Magic (which had been his goal), he took a position with Ted Black Design, a custom yacht designer in Miami where he worked with Ted to envision the styling and interiors of high-end, customer boats as well as a few private jets. 
During that period Robert was making the transition from SGI workstations running Alias|Wavefront PowerAnimator to new software tools like Maya and design specific tools such as Studio Tools. System Integrators for these products were going to school on early adopters to understand what was possible, what designers wanted, and where the market was going next. And Robert was recruited by a leading system integrator to help answer those questions, while also serving as their test pilot for new tools. 
Chapter 2: Digital Visualization as a studio differentiator. 
He joined Kaleidoscope in Cleveland in 2000. His focus there was to consult with industrial design studios around the country who saw digital visualization as a differentiator for their studios. This included kitting out the viz infrastructure for consumer product goods companies like Procter & Gamble and Fisher Price, as well as defining a viz training path for designers at The Cleveland Art Institute. 
It also included a deep engagement with the French consumer electronics giant,  Thompson (RCA/Technicolor), who was developing an advanced visualization lab at their studios in Indianapolis. When his support for that effort became invaluable, Robert joined Thompson/Technicolor full time, ultimately becoming their Director of Design Visualization.  
This was the stage where digital visualization was becoming an integrated, strategic capability that manufacturers were investing heavily in to digitize their product development processes and accelerate their time to market.
When Thompson/Technicolor was disrupted into irrelevance during the cutthroat consumer electronics wars of the late 2000s, Robert started DesignVis— a studio which he later folded into Kaleidoscope, which had relocated to Cincinnati as a full service ID firm. Robert took on the role of Director of K|Studio, ultimately building and managing a team of 14 designers who supported the consultancy's product development and product marketing work for CPG, medical, automotive, and other vertical markets. 
Chapter 3: Visualization as a commodity offering.  
After six years in this role at Kaleidoscope, Robert found that the digital tools he had grown up with had become more commoditized. The role of the specialist visual designer was in sharp decline and every product development studio had a designer or two or three or several that "did that." 
So he took a hiatus to get back to the storytelling impulse that had taken him to Full Sail originally. Restarting DesignVis gave him a familiar platform to steer his work back toward film and film effects for clients seeking "insightful product communications through innovative digital experiences." 
As it turned out, that promise was exactly what Sprout was looking for as its  visualization seedling had taken root. When Robert heard Sprout had an opening (and Sprout recognized just how simpatico their interests were), Robert signed on to help us push our shared passion for Viz as a storytelling force to the next level. 
The Vision 
This brings us to Sprout Viz, a design discipline that we consider an integrated,  strategic dimension of all the work we do.  
When clients can see what you think, decisions move faster. When consumers can see what you mean, sales move more quickly. When business partners can see the invisible made visible, innovations get the oxygen they need to move more confidently. 
While 'the paint is still wet' on the model Robert is developing to structure the Sprout Viz offer, it includes three visualization domains that show where things are headed.
Design Visualization: Using visualization assets to sell the idea. 
In these engagements, Sprout uses rendering and animation to support the product design and development process prior to manufacture. This includes all the iterative steps necessary to turn the requirements into elegant embodiments. It relies on visuals to inform design selection, guide internal decision-making, and equip team members to promote the concepts to  stakeholders who need to share the vision. 
Product Storytelling: Using visualization assets to tell the product story. 
In these engagements we use visual product communications to help clients market, sell, train, and support products during their market entry, post-design and over their production life cycle. Imaging here can include contextual renderings, technical illustrations, exploded views, marketing animations, instructional videos, sales  collateral, and other marketing resources that support multi-channel sell-in and  sell-through campaigns. 
Enterprise Asset Visualization: Using visualization assets to present portfolio stories at scale. 
Technically a branch of 'Product Storytelling,' this pillar focuses on solutions that apply visualization techniques and methods at scale to support the imaging asset creation and management requirements of expansive enterprise portfolios. We have defined best practices to assist companies who are creating digital libraries from legacy assets, as well as those developing native digital asset creation strategies. 
Next Steps 
We are excited to introduce you to Robert, and look forward to writing the next chapter for visualization as a competitive advantage that blends technology, design and commerce. If you have a project on your radar that our "viz superpower" might amplify or accelerate, you can reach out via our website or email Robert directly at robert@sprout.cc.