Women in Industrial Design: A Conversation With Kris Lonergan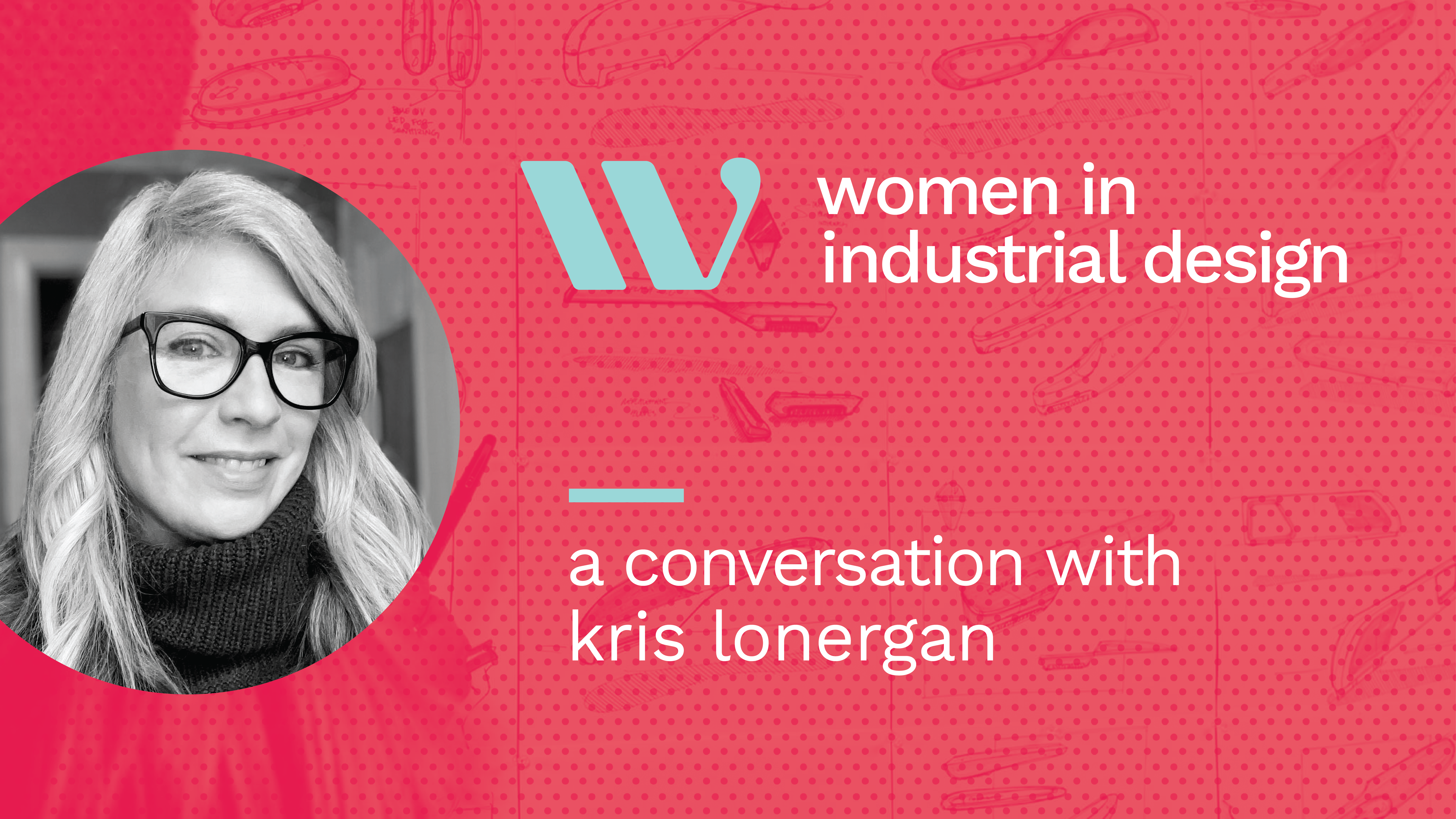 Kris Lonergan lives and breathes fashion through the eyes of an industrial designer, bringing more than 20 years of expertise in apparel and accessories design — including hardware and trims, handbags, jewelry, activewear, outerwear, and swimwear.
As a designer, Kris has a deep understanding of the product development and manufacturing processes, complimented by a broad knowledge of materials that translates to innovative, elegant, and cost-effective designs.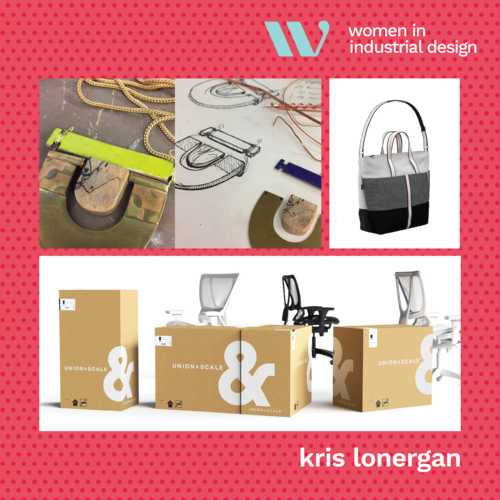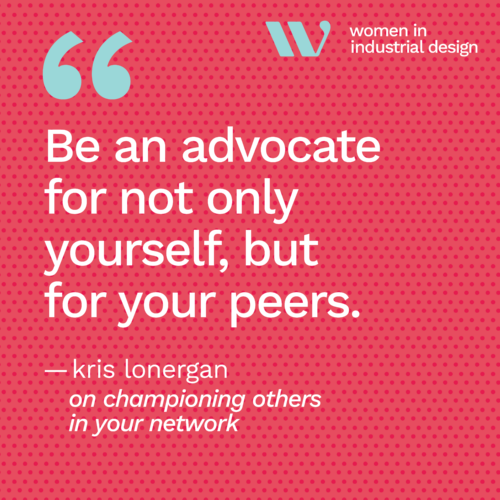 On finding her way to industrial design.
My mother's mother was incredibly strong and such a role model for me. Her husband died very young, leaving her seven children to raise, so, she became a teacher and raised them on her own— like a boss. That of course shaped my mom, and between the two of them I had really strong role models.
I never really played with dolls. Instead, I wanted to make their furniture. I was constantly making things and when other children would say, "Let's play house." my response would be, "You mean building it?" 
My family always supported my interests to the extent that I attended a fine arts school outside Detroit. Everything that I was making in my art classes had a functionality to it, sometimes two. That's when somebody in high school recommended that I study industrial design. I didn't know anything about it but I thought it sounded interesting.
On gender as a hurdle in the industrial design space.  
At a certain point in college we had to declare a major between graphic and industrial design. The design faculty would review your year's work and make a recommendation for your major;  and I watched  as it seemed the women in my studio, including myself, were being recommended for graphic design. Now, I'm not saying graphic designers are not amazing but that isn't what I wanted to do. So, I said to them, "There are other colleges with great graphics programs. I came here specifically for the ID program." I believed that if my grades were solid and I was paying the tuition, then this was my decision. And that was the first time I remember having to advocate for myself because of my gender.
Throughout my career there was one job in particular where the gender divide was very, very obvious — promotions went to men, the entire C-Suite was male. There were times when a project was nearing the 11th hour on a Friday, and management would ask me to work through the weekend to have it ready for Monday. And it felt like a success come Monday. But, I wasn't presenting the work. I wasn't listed on the project team. I wasn't getting the credit. I wasn't getting the promotions. And it became a point of contention for me because it's one thing to not be heard; it's another thing to not even be recognized or seen.
On finding a place in the fashion industry as an industrial designer.
During college I was really interested in the classes that focused on ergonomics and the availability and accessibility of products to the average person.  I viewed fashion as a specialization that was specific to ergonomics and self expression.
The same size 6 jeans from the Gap might be on somebody 4'11" and 130 pounds or somebody 6 foot tall and 105 pounds. One of them might be standing all day for work. Or they might be sitting in an office. That one product has to function in so many different ways, both inside and outside. At the time that was not how other designers perceived apparel. Things were always drawn front and back, very 2D, very flat, while I was drawing in three dimensions. There were definitely times that I was "the weirdo" on the team because industrial designers were not common in the fashion industry. I worked in that industry for the better part of 25 years and most of what I did would always lead back to 3D — hardware, closures, fixtures, handbags, jewelry. 
In the last 10 to 15 years, there's been this huge emergence of athleisure and activewear into the fashion industry. It's opened this whole door for footwear brands like Adidas, Nike, Reebok, Puma to really get into apparel design and industrial designers are much more common in the footwear space. The crossover between fashion and ID is very normal now, it just wasn't 25 years ago.
On the need for balance in design teams.
A good balance is a requirement for good design. When I was in the juvenile space, I recall a project where the ideas that were flying were really cool, but looked really fast and dangerous. And as the only woman on the team, I finally said, "Let's take a step back and look at this from a mom's perspective. Guys, you're terrifying her." 
I really give Dan Reilly, my former manager at Staples, credit for his out-of-the-box thinking in hiring. He found me on LinkedIn and basically said, "I need somebody on my team that has the emotional perspective that a fashion-based furniture brand has to have." It was really interesting for me that it wasn't just that I know fabrics and woods and metals, but he was looking for someone with those specific skills and experience. People buy furniture as a form of self-expression, and diversity on the design team is necessary to create a collection that speaks to those types of emotionally-driven consumer behaviors.
Advice to other women (and everyone else) in the industrial design space.
Do you. When I graduated college, my classmates were sending out hundreds of resumes with the intention to go wherever they were given a job. My dad said something really powerful to me: Why would you let a stranger decide your destiny? 
Decide where you want to go, what you want to do and you own it. If you're doing something that the majority isn't, that doesn't make it wrong. And that holds true for everything you do, even after you get the job. You may have an idea that isn't resonating with the majority but that doesn't make it wrong. It could be the newest, greatest, coolest idea. Whether it's your career path, your ideas, or your projects, do what makes you happy. Do what feels right for you. Don't follow the norm just because that is what other people are doing.
Data talks. In many environments you have to be your own advocate and speak up for yourself, and that's not always the easiest thing. I'm a little bit soft spoken and not usually the first to interject. But I'm a huge fan of data and research and when I can't be heard, I let data speak for me. 
We are seeing a trend currently, particularly in larger companies, where there is a focus on diversity and inclusivity, part of that being gender. And there's something really interesting happening simultaneously — emotional intelligence is now being included as part of the requirements for candidates that they want to bring into their organizations. There are a lot of studies that show women have more propensity to have a higher emotional IQ and level of empathy, and equally as many studies about why empathy makes somebody a great leader versus just a good leader. If you combine those two things, it creates an opportunity for women to step in and say, "THIS is why you should hire or promote me." 
If you are interviewing for a position that lends itself towards emotional intelligence or empathy, why not throw out some numbers and say, "This is the improvement that you'll see in your team's performance, the retention you'll see, the increased output." THAT speaks volumes.
Seek connection. It can be difficult to navigate your career and all of the unique situations and pressures in life. I am part of a networking group of women leaders in industrial design and we meet every other month or so virtually. We talk about our careers, latest projects, our teams, challenges and obstacles, all of the things. They are from all different industries, all across the United States. It's really enlightening for me to hear their stories. Having a group of peers that you relate to is pretty powerful, even if you only have a couple of commonalities with them. It's helpful to gain new perspectives and hear advice from someone not in your exact corporation or every day circle. Those insights will shape you into a better-informed designer, leader, person. 
Champion others. Be an advocate for not only yourself, but for your peers. I was referred to my women's networking group by a co-worker at Staples, and that camaraderie really helped me. She introduced me to a group that I now lean on. 
When you are the minority in the room as a woman it can be difficult to share your ideas. Create a space for others to be heard. Instead of repeating a great idea you heard someone attempt to share, say, "Hey, this person just said something. Can you share that again?" As I get further along in my career, I see opportunities where I can be that person and I think it's my job to do that for younger women. Can you imagine 10, 20 years from now if we're all treating everybody that way? That would be the ultimate goal and I think we can get there.
On staying inspired.
It's going to sound weird, but my go-to has always been people watching. Seeing what people are doing, wearing, eating, how they're behaving — it's free research! Insight into user behavior is what makes good designers, right? 
A favorite place is the Cooper Hewitt Design Museum in New York. It's really immersive and they have an interactive experience where you can design on top of the exhibits. When you leave, you can use the QR code from your entrance ticket to share your experience with other people. On top of that, it's located in the Carnegie Mansion— an amazing structure with a gorgeous outdoor space. You're going to be inspired if you go. They also have several events, many of which are virtual, that are incredibly eye-opening.