Meet Five Boston-Based Black Creatives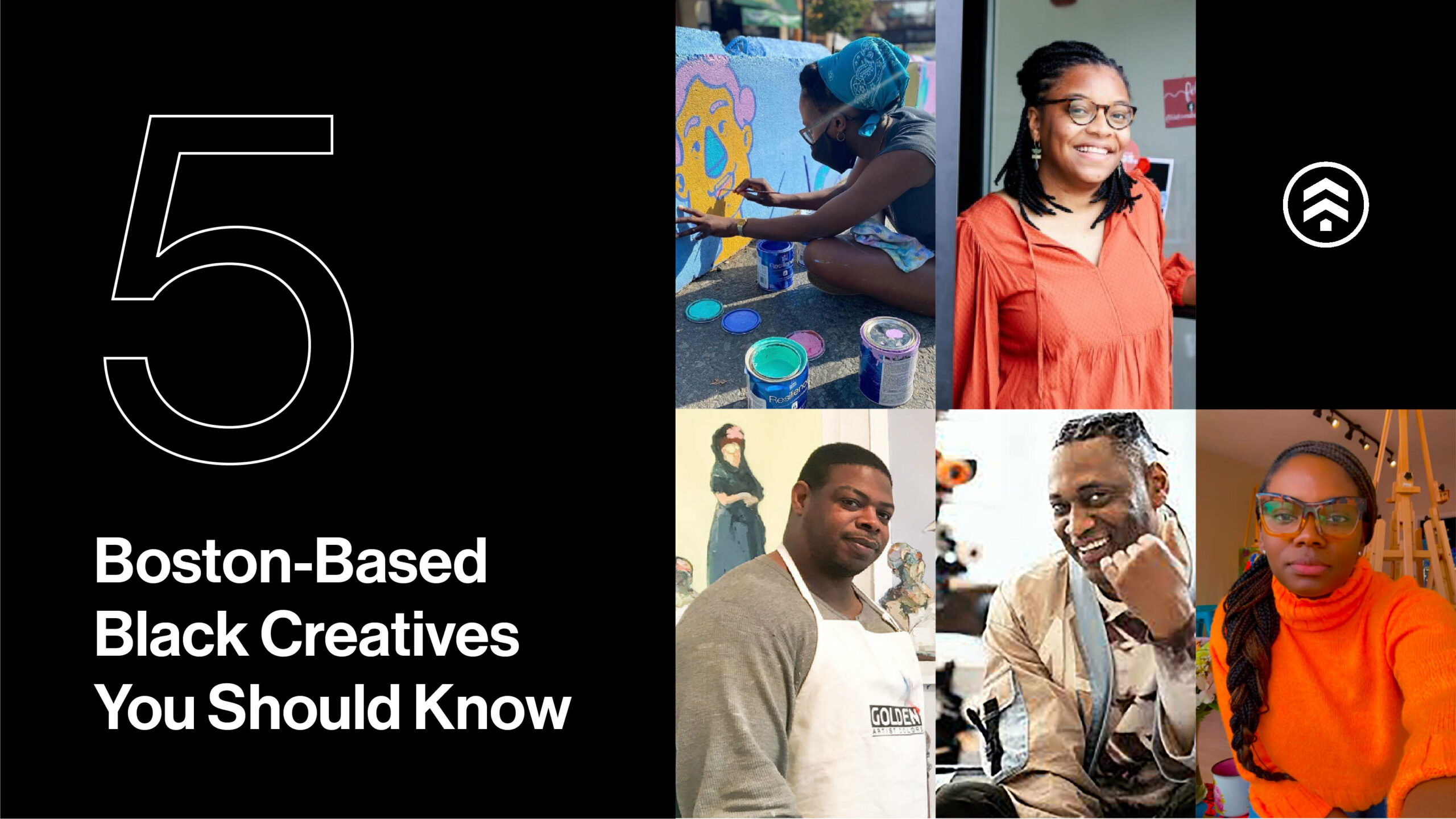 In honor of Black History Month, we are shining the spotlight on five Black creatives in the Boston area that are positively impacting our community through their talents.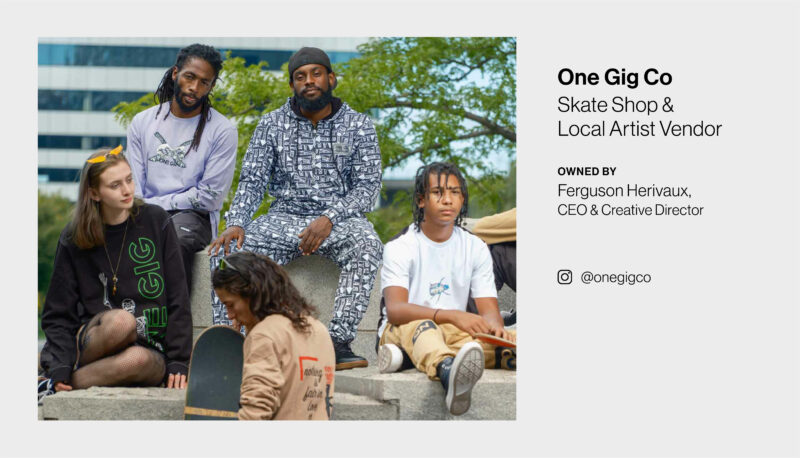 One Gig, a streetwear and skateboard shop, is the only fully Black-owned store in Downtown Boston. The shop produces 90 percent of their own products, from hoodies to hats to accessories to bring life to the local skateboard culture. In addition, One Gig promotes local artists by collaborating with them to create original one-of-a-kind clothing. And if you're looking to decorate your walls with some local eclectic art, you can find that there too. CEO & Creative Director Ferguson Herivaux developed One Gig —  which stands for One Generation Into Generation — to create a space where anybody can feel accepted. We met Ferguson years ago when both Sprout and One Gig were located on Bromfield Street, and it's been awesome to see how much the brand has grown since then.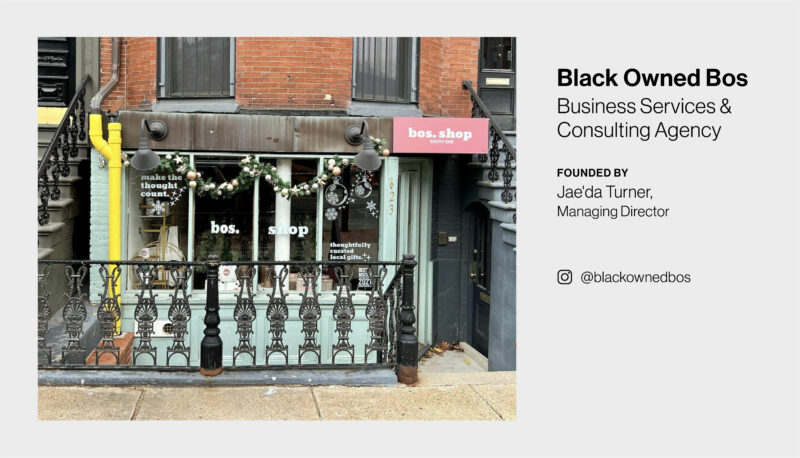 Black Owned Bos. launched in March 2019 as a platform and resource to highlight and lift Black-owned businesses, places, spaces and the people moving the culture forward in the Greater Boston Area. Being an entrepreneur and Boston-native herself, Founder & Managing Director Jae'da Turner understands the challenges that Black-owned businesses in Boston face. Jae'da created Black Owned Bos. as a passion project and her efforts quickly grew. In addition to their Best of Boston pop up vendor markets, Black Owned Bos. has a brick and mortar location featuring 20+ brands under one roof. Be sure to check out their FREE Public Directory of 1,600+ Black-owned businesses in Massachusetts.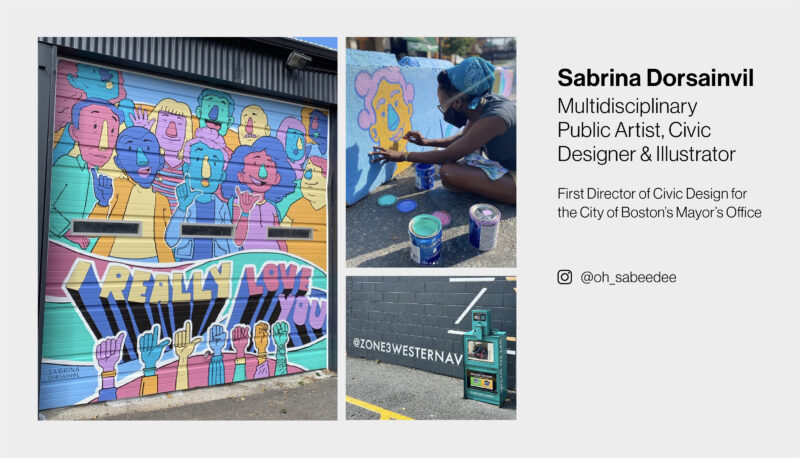 Sabrina Dorsainvil is a public artist, illustrator, and civic designer whose work ranges from playful drawings to strategic design projects. She recently served as the first Director of Civic Design for the City of Boston's Mayor's Office of New Urban Mechanics where she used creative approaches to issues around public health, civic participation, care infrastructure, and the built environment. Sabrina also serves as a member of several arts, design, urbanism and youth-centered non-profit boards as well as a visiting artist, panelist, educator, advisor and lecturer in a variety of spaces. Sabrina has a BFA in Industrial Design from Massachusetts College of Art and Design and an MS in Design and Urban Ecologies from Parsons the New School of Design.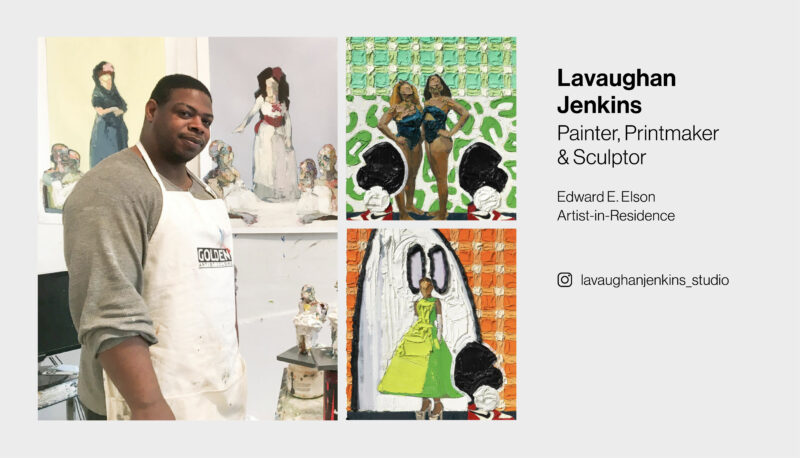 Lavaughan Jenkins is a painter, printmaker and sculptor. His paintings push the boundaries of medium by using oil paint to make three-dimensional work — what he refers to as "3D Paintings." Lavaughan is a recipient of the 2019 James and Audrey Foster Prize awarded by the Institute of Contemporary Art Boston and his work is in the permanent collection of the Museum of Fine Arts and the Institute of Contemporary Art (Boston), as well as exhibited at numerous venues worldwide.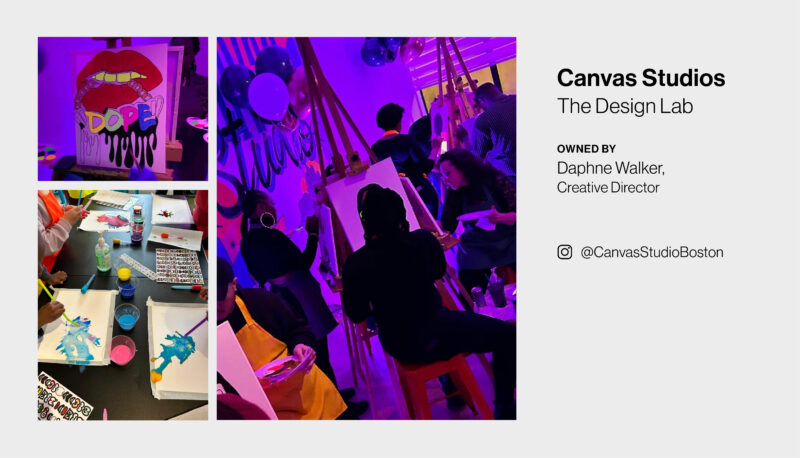 Canvas Studio opened in March 2022 as an inclusive, therapeutic creative space focused on celebrating cultural awareness in a community-based setting. Daphne Walker, Owner & Creative Director, aims to break down financial barriers to cultural programming by offering free art classes in partnership with the Card to Culture program (a collaboration between Mass Cultural Council and the Department of Transitional Assistance, the Women, Infants & Children (WIC) Nutrition Program, and the Massachusetts Health Connector). Canvas Studio offers a variety of art classes and events for creatives of all ages.
Sprout Studios is also a locally owned business and we love to support fellow creatives in our community. If you have a recommendation for a Boston area business we should check out or you are a local looking to collaborate, drop a note and let us know.