Optimizing Your Packaging for Maximum Shelf Impact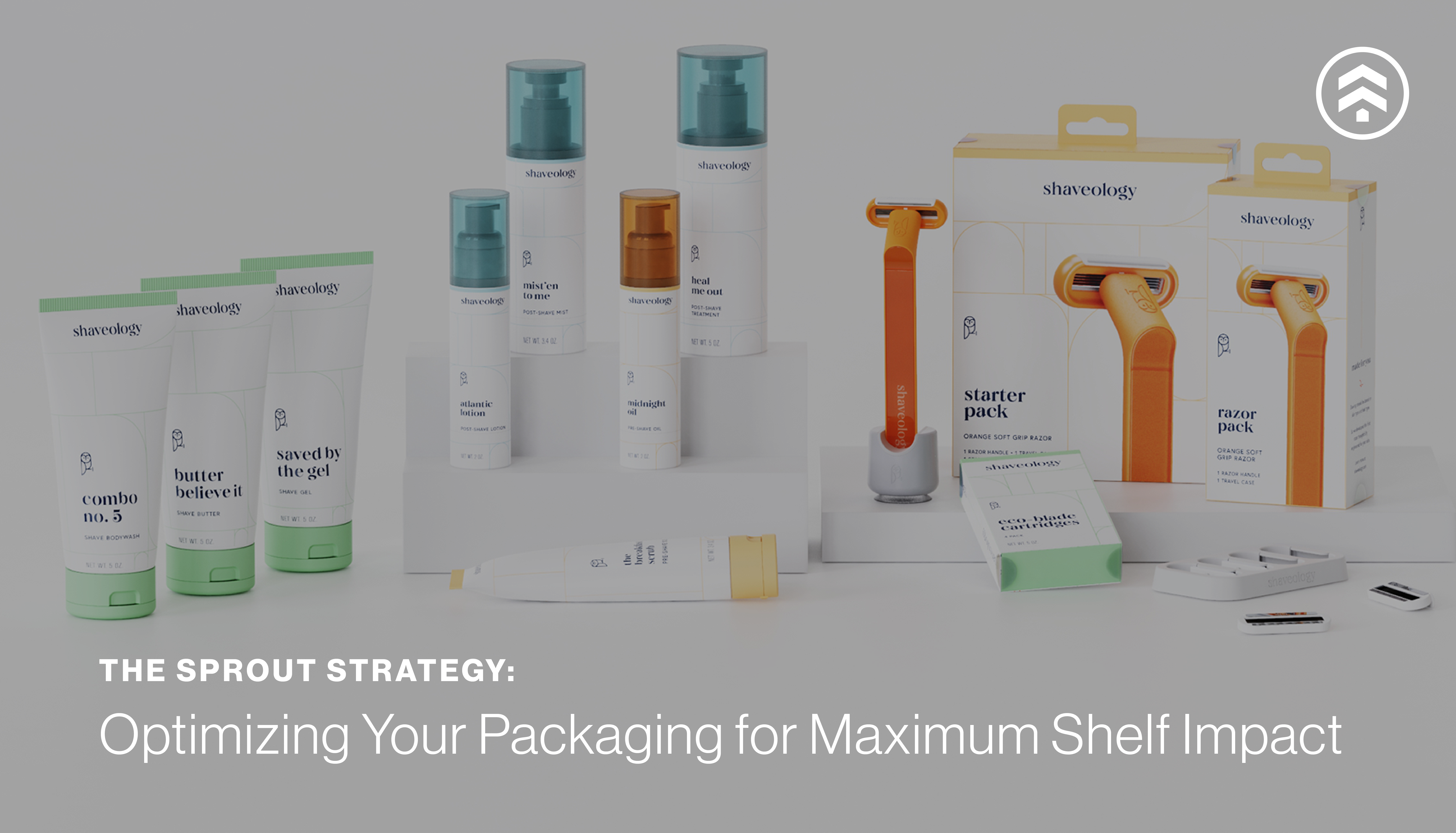 In the wildly competitive landscape of consumer packaged goods (CPG), the essence of survival and prosperity lies in exceptional packaging design. A Nielsen study revealed a telling statistic: 64 percent of consumer decisions to sample a new product are influenced by the visual appeal of the package. This underscores the pivotal role that packaging plays in driving purchase decisions. 
Of course, CPG brands don't stumble upon their shelf success by chance. In this article, we delve into the strategies behind designing packaging that not only captivates consumers but also ignites sales.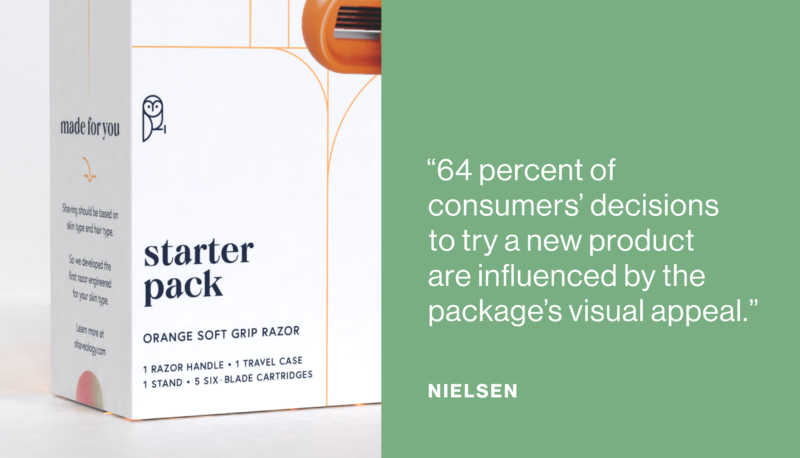 The Foundation of Effective Packaging 
In the first stage of packaging design, it is imperative to lay a solid foundation anchored in your brand identity and equities. This fundamental step is especially critical for emerging brands seeking to carve out their niche on-shelf. Understanding the competitive landscape serves as a compass to identify and communicate unique differentiators. By forecasting your brand positioning and competitive edge, you establish a robust footing for the design process. 
Early on, it's especially important to have a clear understanding of the package cost-of-goods which will offer the design team a sense of guardrails for how far they can stretch their thinking, design concepts, and the brand's equities. COG's will enhance creativity because it allows for more focused creativity.
Designing for Maximum Shelf Impact
To craft an effective CPG branding and design strategy, it's essential to understand the retail landscape where your product will be sold. Begin by pinpointing your ideal consumer profile and where they frequently shop, in particular those retailers where your product can be positioned. By working from the end consumer's needs to the optimum retail distribution, you can strategically position your product for maximum market impact and performance. 
In a retail environment, a single product can occupy multiple locations in-store, each offering unique challenges and opportunities. For example, in the realm of beverage packaging design there are multiple places in a given retail environment where your drink can be positioned. Will your product find its place in the single-serve refrigerated case or in a 4-pack on-shelf? Will it gain placement on a promotional end-cap or end up mid-aisle on the bottom shelf? And what about the near-neighbor products flanking it?
Incorporating comprehensive research exercises and leveraging 3D rendering tools will assist in developing a holistic understanding of your product's ideal location in stores. Market research company Ipsos found that 72 percent of Americans believe that product packaging design plays a crucial role in their purchasing decisions, so optimizing the visibility of your packaging is critical. Through rendering, you can visualize how your product will look on store shelves from every angle, even before creating prototypes. By leveraging these valuable insights, you can develop an effective packaging design strategy that captivates attention, encourages consumer engagement, and maximizes success in the retail environment.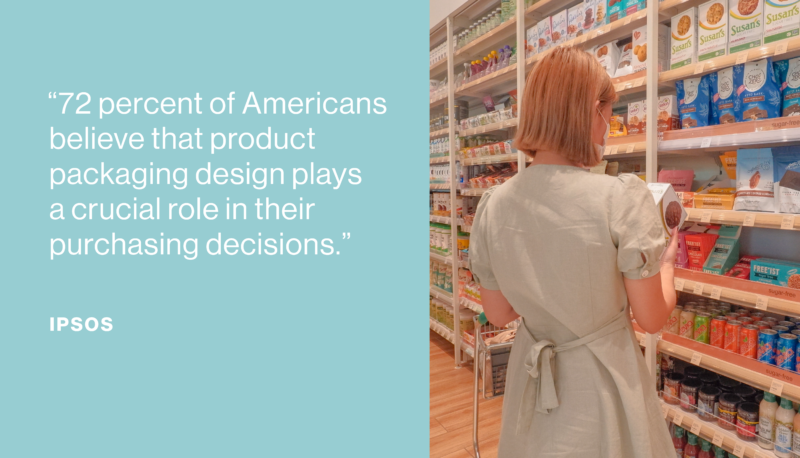 Fostering Repeat Customers
In the CPG realm, one-time buyers aren't the goal; it's all about nurturing repeat purchases via brand activation and loyalty. From ergonomics to messaging, every facet of the packaging should contribute to building brand loyalty.
Your packaging solution should transcend the point of purchase, reinforcing the buying experience. Package quality and functionality are key players in fostering repeat purchases as consumers appreciate packaging that maintains the quality, appearance, and freshness of the product over time. 
Packaging design should not only focus on aesthetics but also consider how the product feels in the consumer's hands and the emotions it evokes. Carefully consider how all the package materials, colors, labeling, and messaging align with your brand identity. Use distinctive yet recognizable language and consider typeface styles and sizes that correspond with your intended message. Testing these elements during the packaging design process is essential to developing packaging that resonates with your target audience and succeeds in the market. When consumers develop a positive emotional connection with your packaging, they are more likely to choose your product again and again.
Specifying package materials that are robust and resistant to shipping wear and tear will ensure that your packaging stands up to the rigors of transit as well as everyday use. Additionally, consider how your packaging adds value and enhances convenience for the consumer. Whether it's through easy-to-use resealable features, ergonomic dispensers, or clearly understood use instructions, ensure that your packaging contributes to an overall positive consumer experience.
To be clear, a firm grasp of Food and Drug Administration (FDA) package regulations and other legal requisites is vital, especially during the production design phases. While there may be more exciting aspects of the design process, these are necessary to maintain compliance prior to production and shipping. 
Your packaging can also act as a catalyst for ongoing brand involvement. By incorporating QR codes, social media handles, or website URLs, you can build an engagement strategy that directs customers to supplementary content, loyalty programs, and special offers. Actively seeking and connecting with consumers, while providing opportunities for ongoing interaction, will keep your brand top-of-mind, nurturing a strong relationship with your consumer base.
Conclusion
With careful planning and by considering these factors, you can develop compelling CPG packaging that not only captures your target consumer's attention but also aligns with the rigorous requirements and selling opportunities of each retail environment. At Sprout Studios, we use a vertically integrated approach to assist brands when developing strategic packaging, delivering designs that lead to top-of-category performance. If you have a packaging need that you'd like to discuss with our multidisciplinary team, please reach out for a quote via our website.
About the author
Bill Valls, serving as the Vice President of Design at Sprout, brings a rich and varied background in product design, strategic planning, and packaging design and innovation. His wide-ranging career has offered him collaborations with global CPG brands, including iconic names like ChapStick, Crest, Vaseline, and Kool-Aid. With more than four decades of hands-on design and development experience, Bill possesses profound expertise in the realm of structural packaging design and a keen awareness of how directly it influences consumers and on-shelf success at retail. Having joined the Sprout team in 2021, Bill's seasoned design perspective has been instrumental in shaping innovative and ownable packaging solutions that not only capture shoppers' attention but also pave the way for brand growth.