Women in Industrial Design: A Conversation with Betsy Goodrich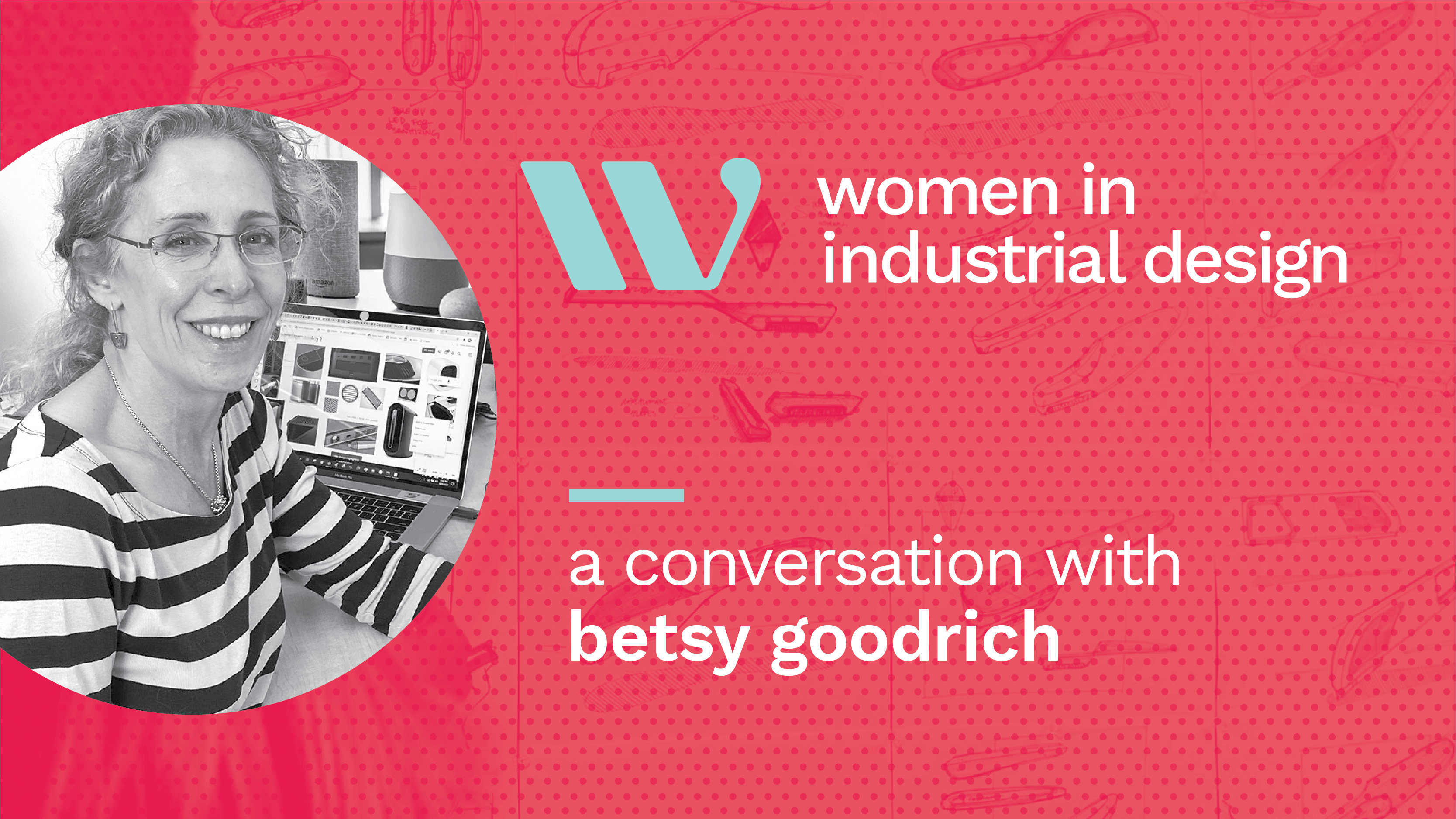 Back in March during Women's History Month, we had a discussion at Sprout about the gender gap in industrial design, and what we could do to help the issue. We committed to initiating a year-long dialog, bringing in the perspectives of women designers that we admire and sharing this conversation with the design community.
This month, we met with Betsy Goodrich, co-founder and Vice President of Design for MANTA Product Development in Boston.
The hurdles facing women in industrial design—
Career opportunities in ID have improved greatly for women since I started in the field, but still have a long way to go. Women in ID are still less likely to be hired when starting out, are paid less, given less opportunity, promoted less often, and don't rise as high up as men in most organizations. They are much less likely to get leadership roles, to get funding, and to start their own firm or company. They often bear more of the load of family responsibilities, which is often seen negatively by employers and investors.
The world of design loses much insight and richness when women are excluded. I echo all the comments made by my good friend Jennifer Linnane previously, women in ID are still not taken as seriously or perceived to be as capable as men. They are often directed into design areas perceived as less technical and more female (housewares, infant products, soft goods, fashion) and user research / UX / UI, rather than towards work associated with a technical or performance focus (automotive, high tech, heavy equipment). The fact that almost all of the world's most famous car designers are men reflects this.
One reason for this is that industrial designers traditionally are required to work very closely with engineering and manufacturing in developing designs for production, domains dominated by men. Men in these fields who are more mechanically and analytically inclined, value mechanical and manufacturing expertise. They often have less experience working with women and may not perceive them as equals. Female designers and engineers are becoming more prevalent than in the past, but are still in the minority, and too often are one of few female members on a team or team leaders.
The focus in industrial design has changed too. In the past consumer products were often about updating the style and adding a new feature or a bit of cool tech, but based on the same user mindset. Innovative products today typically start by looking more holistically and deeply at the system of use and changes in the user needs and mindset, which often result in a new service more than a product.
Men traditionally relate to each other and compete with each other differently than women do. Male-dominated environments are seen as more competitive, individualistic, focusing on who's in charge, and who will rise to the top first. Female-dominated organizations are traditionally more equal. Women often value working closely as part of a team more highly, value input from team members more equally, and describe success differently than men. To survive in male-dominated environments women often have to adjust the way they work to be more competitive and to more consciously self promote. Studies have shown men will apply for a job even if they don't have the required skills, where women may not unless they meet or exceed the requirements. Women need to reach out and grab opportunities more often even if they're not sure they're ready for it.
Design Continuum (now EPAM) was a great place for me to learn and grow. Gian Zaccai, the co-founder of Continuum, helped me get started in the field. I had great projects, worked with great people, but was one of the few women in design most of the time I was there. I had to learn quickly to stand up for myself, to present and defend my work like the guys. One person there helped me greatly was Jules Pieri – an ID grad who was the first industrial designer to graduate from Harvard Business School. She has been a great role model and pushed me to believe in my abilities and potential. Jules went on to manage corporate design teams and divisions, and to launch her dream project: The Grommet – an online marketplace for products from makers, inventors, and entrepreneurs.
Opportunities for women to excel in an ID role—
I think that women are deeply interested in understanding the people and cultures they are designing for (who and why) and the different ways (how) a product can benefit them. I also believe women are often more interested in and better at building relationships with team members and clients than men traditionally are. We provide a deeper awareness of users, their needs and opportunities, which is especially critical when looking for new solutions. We need to value and use these abilities and our unique viewpoints to help our teams think in ways that they might not.
Ideas for personally taking steps to close the gap—
1 Mentors and advisors. Finding people who support your (women's) growth and who will advise you is really important. If your company has a mentorship program, sign up to both advise and be advised. Reach out to HR – it's incredibly important to identify people who are interested in your growth and development and whom you can help.
2 Industry networking. Build a network of friends in the design industry. Start with your class, teachers, and program, but also reach out to professionals. I found my first job by reaching out to someone whose work I admired – Gian Zaccai – who became an important mentor to me. I got involved in design groups early on –  IDSA, DMI, AIGA – locally and nationally, which also had a huge impact. At Continuum a group of us traded off leadership roles in the local IDSA chapter. It was a great connection – we would chat about design, share insights on what was happening locally and on different roles in design. It helped us grow our networks and gave us confidence.
3 Professional networking. Running my company, MANTA, and my involvement as a board member of DMI (Design Management Institute) has helped me grow my network, learn new leadership skills, and gain insight into company management. Keeping in touch with clients and coworkers past and present and keeping those contacts alive is so important, as is giving back to them too.
Advice to women starting work in the industrial design profession (…and beyond)—
1 Acquire skills. There were 50 people in my year in ID, half of them women. There were only about five of us (women) who practiced in ID within a few years. Only two of us started design firms. Some didn't have the skills or enough exposure to the field at the start and struggled to keep up in class. The same thing happens after you graduate and later – you need to keep learning, developing your skills, updating your portfolio and resume. I highly recommend internships – they help you learn about the business and build skills. After you graduate, keep learning new skills. There are so many great tutorials and classes online now to explore. Volunteer on project teams and hack-a-thons. Follow projects that inspire you and look at the design sites / awards programs to keep inspired.
2 Pursue mentors. As stated before, keep in touch with teachers, classmates, internship contacts, and co-workers. Let them know what you're up to, what you've been working on, and learn from their progress. Reach out and find mentors and advisors – build those relationships – people aren't going to come to you. Get involved at your school, in design organizations, with start-ups, and join in on design challenges. Go to portfolio reviews – share your work with others and ask for feedback. Keep in touch with people who help you and find ways to help them.
3 Seek challenges. Once you land a job, make sure that you don't get saddled with the same kinds of work all the time – ask to be put on challenging projects; work in different roles. Make sure to present your ideas yourself as much as possible.
4 Build confidence. Confidence, whether you're male or female, young or old, is something you always have to keep building, especially for creatives. Find people that inspire you and opportunities that allow you to grow. Avoid places and roles where you aren't valued. Find the keys to build your confidence.
A book I'm reading that has expanded my mind—
Extra Bold: A Feminist, Inclusive, Anti-Racist, Nonbinary Field Guide for Graphic Designers is helping me to be aware of my blind spots, how the ways we identify is changing, and how to be a better ally in all ways!