5 Cannabis Packaging Trends From NECANN 2023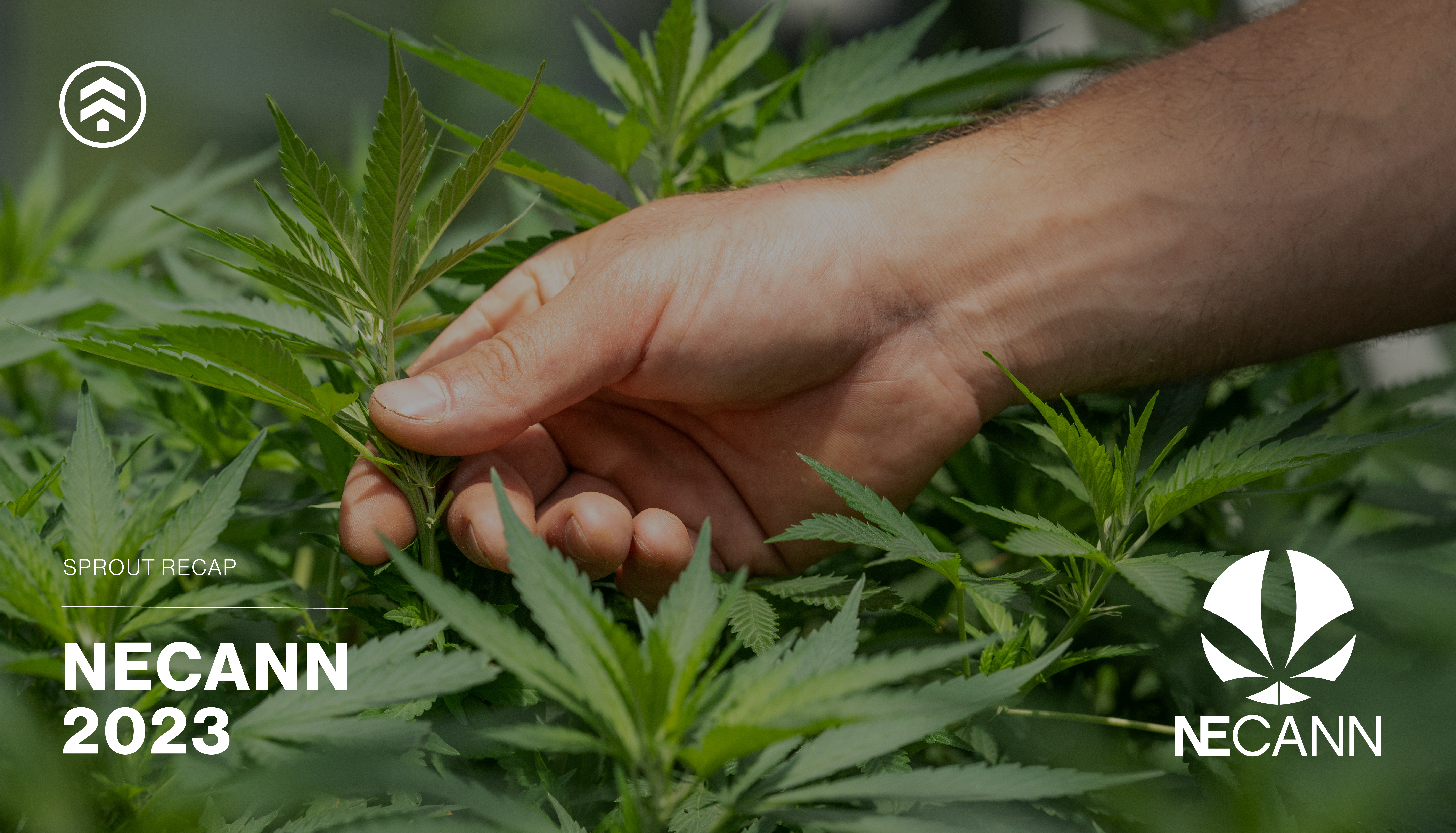 Since its launch in 2014, the New England Cannabis Convention has grown into one of the largest B2B cannabis industry events in the country. This year's convention featured over 300 exhibitors, and brought in over 10,000 attendees to hear from industry experts and network with the largest gathering of cannabis professionals on the East Coast.
The Sprout team checked out the show for the first time since 2019 and we were blown away by how much growth the industry has seen in a short amount of time. Consider these stats: When Massachusetts legalized recreational cannabis in 2018, the state had only 79 plants harvested in cannabis cultivation records. In November 2022 that number jumped to over 2.6 million! What was once a show to sample local strains is now packed full of national-scale brands and corporations; offering everything from operations and logistics to security, insurance and banking; and huge innovations from automation to accessories. We were stoked to support Sprout clients —  CommCan, The Heirloom Collective, VYB and AMP — and to see so many new faces in the game.
Our Creative Director, Matthew Evans, and Art Director, Ryan O'Donnell, are sharing five trends in cannabis packaging design that they observed at the show.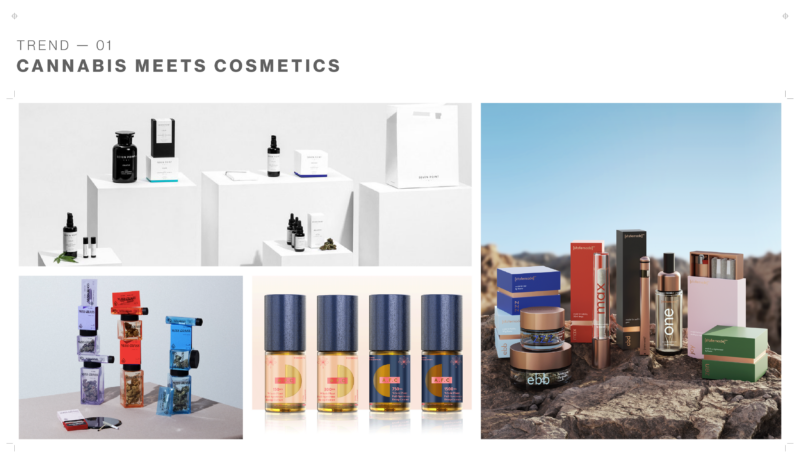 In contrast to the maximalist design aesthetic of street-sold cannabis, there is a rise in brands favoring a more minimal and refined look. Cosmetic-like packaging positions these products as more sophisticated than predecessors, appealing to a demographic that is not looking to get completely stoney bologna.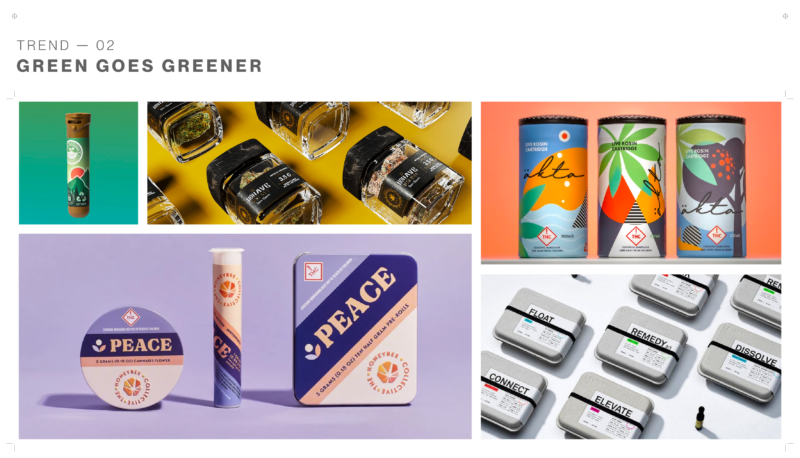 There is an industry-wide shift from plastic, one-time use containers to more sustainable materials like glass, metal and paper, with more packaging becoming reusable or compostable. We are excited to see this transition and decrease in the use of single-use packaging. We hope to see more brands shift to sustainable options and adopt recycling programs that allow customers to give back their containers.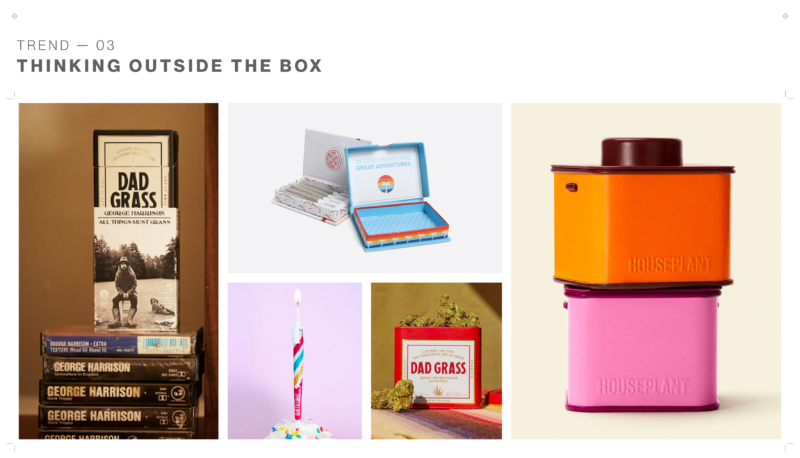 Research shows that over one-third of consumer purchase choices are based on packaging alone. The competitive cannabis industry is getting creative with witty approaches like tins that look like books, cones that resemble birthday candles, and even cassette tapes.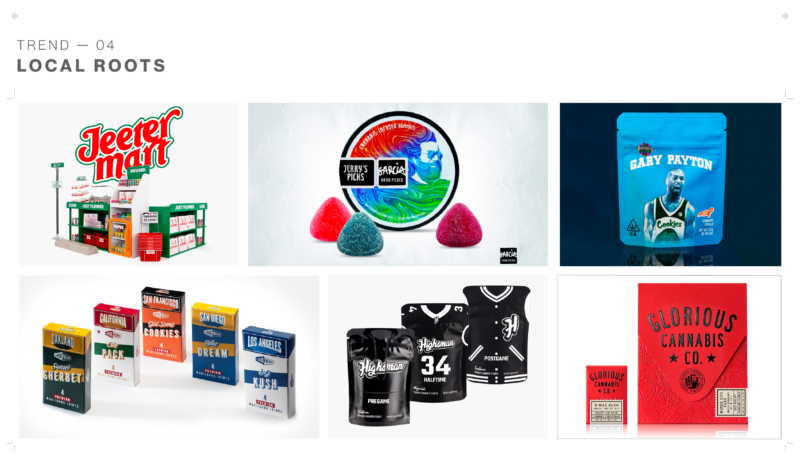 Connecting with your audience on an emotional level is a thoughtful and engaging way to gain attention. Giving a nod to the local geography is an easy way to achieve this. Brands are using local landmarks, memorable sports team colors, and city names to capture the attention of local customers that have a hard time resisting the homage.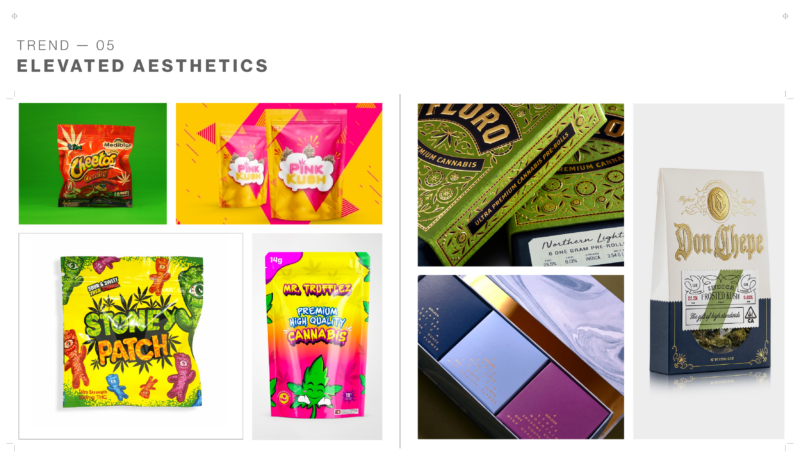 One of the largest trends we see is the differentiation between amateur packaging design and aesthetics to more thoughtful approaches. Before Prop 64 passed in California, many illegal brands used DIY packaging to create trust and brand recognition. Consumers would feel they got a better product than something given to them in a plain plastic bag. Now that cannabis use is widely recreational, brands have become more in-tune with stepping away from the stoner culture design to create something that can be more respected. It is also a socially responsible approach. Too often we see packaging that is clearly advertised to gain the attention of younger audiences. We are highly against this tactic and excited to see brands shift their efforts to more mature, adult audiences.
GET IN TOUCH — If you are a cannabis brand looking for a joint collaboration, we'd love to hear from you! Reach out or request a quote.